Fair Dinkum, It's Unfair
Breaking the Mould –Taking a Hammer to Sexism in Sport - Angela Pippos
Sport is synonymous with leadership and Australia. So, I'm surprised that I'm reading my first sports-focused book during my reading challenge.
After listening to the author's oration I knew I had my next book to read. I listened eagerly to Angela Pippos at the Visy BlueSkies Inclusion quarterly event and quickly took the opportunity to have a selfie with Angela and pick up my copy of 'Breaking the Mould – Taking A Hammer To Sexism In Sport'.
Like fellow Journalist Annabel Crabb's book, The Wife Drought, Angela also presents the facts - how females have been let down by their fellow men and women. We continue to highlight the national issue of inequality, sexism, a lack of inclusivity and our unconscious bias.
We all have a role to play in breaking the mould of sexism in sport and 2017 has been a tipping point year - we witnessed the first round of our first women's national football league. However, we are still in our infancy in making a massive change to our culture. It's still fair dinkum unfair.
Angela's 'hammer' solution is simple - Leadership. It's about getting equality on the grass (and all playing surfaces) as well as on Boards, Leadership teams and in the businesses of the Sponsors who have the courage to support 50% of the population (the ones who generally make the shopping decisions in their household.)
We need the right people, in the right positions, talking about the right thing - fairness in sport. The right people need to be more women and men in the positions who can break down the stereotypes and they all must be talking about the need for equality and inclusion.
My heart goes out to the women who give their 200% in their field of dreams – the stories of women having to travel the sports circuits to make the money which some blokes make playing one game in one season. It is indeed very unfair.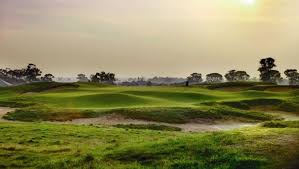 Here's a test – I am a fan of golf, so when I ask, which Australian has won the most majors, which name comes to mind first?
I particularly enjoyed these points shared by Angela:
· Underneath, buried deep in sport's foundations is something much harder to confront. Elizabeth Broderick calls it 'gender asbestos': 'It's built into the walls, the floors, the ceilings of institutions and organisations, the behaviours, the practices. It's often not tangible.' Gender asbestos has many guises in sport, all insidiously working to prevent women from achieving equality in both the field of play and the boardroom.
· The only thing boring about women's sport is the need for it to be continually defended against biased perceptions.
· Any woman who breaks down boundaries in male-dominated areas has a story to tell, and we need to hear these stories. We can learn so much from them about leadership, adversity, strength and humour. Seeing a reflection of ourselves is empowering and motivating, and makes it a whole lot easier to visualise a clear pathway, rather than one full of potholes and ill-informed attitudes.
· The only way to bury our hidden biases is to unlearn current beliefs and relearn new ones.
· In order to change attitudes and wipe toxic elements from football culture, strong leadership must be shown when dealing with all cases (referencing the Milne case), on and off the field, that demean and disrespect women.
· In 2016 every female member of St Kilda staff took part in a three-month empowerment program to encourage them to speak up and aspire to the top jobs.
· Women bring a fresh perspective. They bring a different voice, a different energy, a different sensibility and a different life experience. And diversity of all kinds on boards makes good business sense – it reflects the real world.
I hope that there are a few influencers (read partners & wives) of the blokes who are behind the companies who should be more fair in their business, in particular those that sponsor or involved in supporting men and women in sport. We need a critical mass to influence the culture.
And, here's hoping we see this book read in school, used as a text in Sports studies in university and read by both women and men who have children who are interested in sport. Let's get the education right and we might see a fairer deal for women in the future.
Answer: Did you think: Day, Scott or Thompson? Or did you answer correctly? Karrie Webb (7 Majors)
I'm endeavouring to read 52 Business/Professional/Personal Development books in 52 weeks. Yep, that's one a week. As I read each book, I'll share my thoughts, learning and recommendations. If there is a book that you've been meaning to read, let me know and I'll read it for us!